Over the past couple years, Cinetronic has set the bar for the new standard in Steadicam monitors. Building on our past success, and operators input, we created the Gen2 monitor, the new standard in steadicam monitors. The Gen2 features a smaller lightweight design, with new software features, and unparalleled brightness and view ability.
Get it on Film-Stuff.com
We distribute the monitor and other professional equipment for filmmakers via our online store on Film-Stuff.com.
Besides ordering a brand new unit we are offering our existing customers to upgrade from their Gen1.
The Beauty of Glass
Our monitor is built with an all glass front, providing a beautiful, functional and rugged design. The glass front allows for a completely sealed front face, with embedded touch buttons. This removes any failure prone mechanical switches, and keeps the monitor sealed from the elements. Glass bonding seals against any dirt or moisture entering the display area. Hardened glass resists scratches, and provides years of use.

---

Simple, Elegant, Rugged
We believe a design should look as well as it functions. We combine gentle curves with a glass front for an elegant mix of glass and aluminum. Our housings are CNC machined in house out of billet aluminum, yielding a very strong but lightweight design, able to withstand years of on set use and abuse.
---
Our's goes to 11
People often ask the secret to our unparalleled brightness, and daylight view ability. The answer is ours goes to 11, which of course is 1 better. We combine the brightest LCD screens available with optically bonded glass, and military grade Anti-Reflective coating, to give you the best sunlight viewable image available.
Future-proof
Other manufacturers claim to be future-proof, with USB software upgrades, but what about the hardware? Our monitors are a modular design, which allows for future hardware upgrades as well. The display can be easily upgraded when new LCD panels are available. We also have USB software upgradability, to add new features as they are introduced. We hope this will be the last monitor you will buy (Unless you want a second one of course).
Real World Experience
We understand the demand of working on set, and how the equipment will be used. This allows us to build equipment that simply works, and stands up to the rigors of use on set. We welcome feedback from end users, and use it to shape our future products. Every owner of our equipment is part of our design team.
---
No Touch Zone
Unlike other touch screen monitors, our monitor features a No Touch Zone and a touching zone (kinda like a first date). We encourage you to touch the touch buttons below the display, and not the display itself. Who wants to look at fingerprints on the image all day anyways?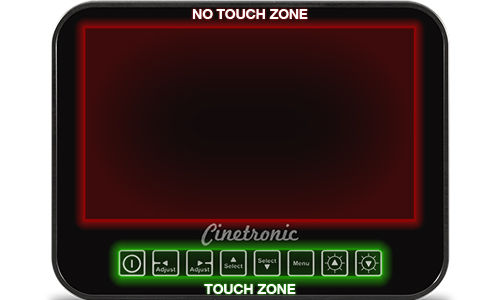 ---
Features
7" 16:9 Glass bonded screen

scratch-proof

reflection inhibiting

8-bit color (16 million colors)
Ultra High Brightness: 1500 Nit LED backlight
Fully dimmable backlight from 0-100%
HD-SDI (3G), Composite, HDMI inputs
Image scaling and Framelines
On screen bubble level requires CDL
Focus Peaking, Histogram and False Color functions
4:3, 16:9, Anamorphic and custom aspect ratios
On Screen Tally
Lightweight aluminum housing
6-36V input range

polarity protected

Available with 8-pin Steadicam Lemo connector
Firmware upgradable via USB
Weight: 2.2lb (1 Kg)
Housing size: 7.4" x 5.6" x 1.8" (188mm x 142mm x 46mm)